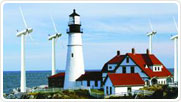 SenWei Wind Power Co.set up in 1996, is one of the leading manufactories of small wind turbine generators in China. We specially manufacture safe and secure wind power generator, lamina and completely automatic sine wave inverse controller for the world market.
The company and the factory are occupying the area 60,000 square meter. We have advanced equipment and specialized monitoring facility, mainly engaged in wind power products range from 200 W to 20 KW produce and sales.
Wind energy has been the fastest growing energy source in the world since 1990. However, this growth has been achieved with wind turbine technology that has required subsidization. We have gained valuable experience and an appreciation of the challenges faced in developing new wind technology since these machines first went into operation. Along the way we have accomplished many of our goals, and have had a few setbacks, which have proven to be even more valuable learning experiences.
We own many engineers who have engaged in over a long period of time investigating the wind energy generator electricity, We own modern production lines and high quality controlling equipment with scientific administration, professional engineers, highly trained technicians and skilled workers. So we have responsibility to service everything we capable either large or small for your require.
We encourage the use of our wind power generator for its cleanly, environment protect, and economy energy sources. And our aim is to develop more advanced wind power generator with high scientific and technologic lever. We carry out ISO9001 standard to give customer security, and all products have the CE certified for the European market.
We hope you enjoy our web site and welcome you aboard.