The Sen wei Wind Energy Systems carry a Three years limited product warranty to the original purchaser beginning upon the date of installation or ninety (90) days after shipment from the factory, whichever comes first. This warranty covers the Sen wei Wind Turbine,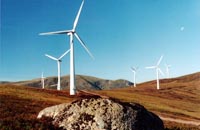 Controls and Tower (exclusive of foundation and wiring).
This limited warranty extends only to material and workmanship provided or recommended by Wind Turbine Industries Corp. Use of components not sold by Wind Turbine Industries Corp. voids this warranty. This warranty does not cover installation by the Dealer or any other party as regarding installation materials, components, workmanship, or installation design. These installation related items are covered by a Limited Installation Warranty when purchased from an authorized Senwei Dealer. Service or Installation by anyone other than an authorized Senwei Dealer voids this warranty.
Items not covered by this warranty include:
Towers, equipment, materials, or supplies not manufactured by Senwei;
Abuse, misuse or vandalism.
Senwei equipment that has been modified or altered without prior factory approval;
Repairs performed by other than authorized SENWEI service personnel;
tower system foundations.
all acts of god, including tornadoes and all other cyclonic windstorms.
Damage or loss of function sustained during periods with wind speeds exceeding survive wind speed of Senwei equipment;
damage due to voltage irregularities, including lightning or utility system failures that enter intertied SENWEI systems from the output (grid) SIDE
failure to periodically service and maintain system in accordance with instructions furnished by SENWEI
This warranty is not applicable to any component which, in the opinion of the manufacturer, have been subject to overload, mechanical abuse, improper installation, use with any unsuitable power source, or any other non-warranty condition.
In the event that any component part of the system covered under this warranty should prove defective, it will be repaired or replaced free of charge F.O.B. our factory upon the prepaid return to:
SENWEI Wind Power industry Corp. (104 National Highway, Side Of Ping Yang Toll Station, PingTa Industrial Estate, WenZhou City, ZheJiang Province 325400)
This warranty gives you specific legal rights, and you may also have other rights which vary from state to state.